Facebook Post from August 2nd 2013:
"Exactly 12 months ago, my long time client Alex Farina set a goal of playing in the Cape League. After speaking to numerous coaches, we realized he was not a candidate just yet. We sat down and devised an actionable, step-by-step plan to get him to his goal of playing in the Cape Summer of 2014 .
Step one: Get in a reputable summer league to be challenged and noticed as a prospect— Signed NECBL Contract January 2013
Step two: Work with Wayne Mazzoni to keep improving mechanics— Done on a regular basis.
Step three: Improve force production to reach 90 MPH off the bump— Touched 92 April 2013
Step four: Preform well in NECBL; Minimize walks, pound the strike zone, make hitters beat you.— http://necblpilgrims.bbstats.pointstreak.com/player.html?playerid=420529
I am proud to say that as of this afternoon, Alex will be released from his NECBL contract and sign with the Harwich Mariners of the Cape Cod Baseball League for the remainder of their season, including playoffs. One year ahead of schedule.
Last summer Alex was in training before work at 5:45am 3x a week, worked a full day, then played ball just about every night. Never once complaining or half-assing his workouts. Setting PRs while his competition was sleeping in or nursing their hangovers.
Score another one for the good guys who work hard day in and out. Congrats my man!"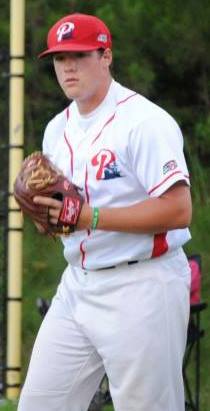 Since that post, Alex finished the summer down the Cape, and worked hard all fall and winter preparing for whatever the new year will bring. During that time period, he re-signed another Cape League contract for the summer of 2014, fielded calls from MLB scouts, was featured in a video of his training and commitment to the next level.
Enjoy!